We know how important it is that you receive your images timely and in a professional manner.  Therefore we make every effort to thoroughly deliver your images to you in the most organized manner. Every client gallery that is delivered is reviewed by our professional team to make sure your images are accessible and downloadable. 
••••••••••••••••••••••••••
​​​​​​​​​​​​​​
How to download your images:
Please use a desktop computer to download and backup/store your images.
••••••••••••••••••••••••••
Step 1: Click on the gallery link and enter your email so that your're now viewing your gallery.
Step 2: Once you've done that make sure you navigate your internet browser to the top of the gallery (this should automatically happen anyways :)
Step 3: At the top right of your gallery page, look for a SMALL icon displaying an arrow pointing down within box. By simply clicking this icon you'll be able to download your entire photo gallery!
Step 4: To download the highest quality images you'll want to click "Full Resolution."
Step 5: Once your Desktop Computer has finished downloading all the images it should create a folder for you that contains all your images. MAKE SURE your Saving all your images to a backup device (like a USB flash drive OR your desktop computer itself). 
There you go - 5 thorough and easy steps to download your images!!!
If you are facing issues downloading images, rest assured we have reviewed things from our end and most likely the issue can be solved on your end by taking one or more of the following steps:
• using another web Browser •
• Make sure you have a zip file extracting software (if you're trying to download the entire gallery)
• Purchase a usb drive from us with all your hi res image for $200 
PLEASE NOTE THE FOLLOWING:
ALL Wedding Galleries will remain ACTIVE ONLINE for 180 days.
All other Galleries will remain ACTIVE ONLINE for 90 days.
YOU HAVE 30 DAYS (from the day you receive your gallery link) TO DOWNLOAD ALL YOUR IMAGES TO YOUR OWN HOME COMPUTER OR ORDER A FLASH DRIVE FROM US FOR $200 - THIS FLASH DRIVE WILL CONTAIN ALL YOUR HI RES DIGITAL EDITED IMAGE FILES.
Once a Gallery expires it can be reactivated and extended for $19.99 on a per month basis.
How to purchase print products from your gallery:
Enter your gallery and click on shopping cart icon (on any image)
CLICK IMAGE ITSELF AND CLICK "ORDER" (SEE RIGHT FRAME BELOW)
Select the type of print product that interests you,
Scroll down the right hand column to browse our offerings.
​​​​​​​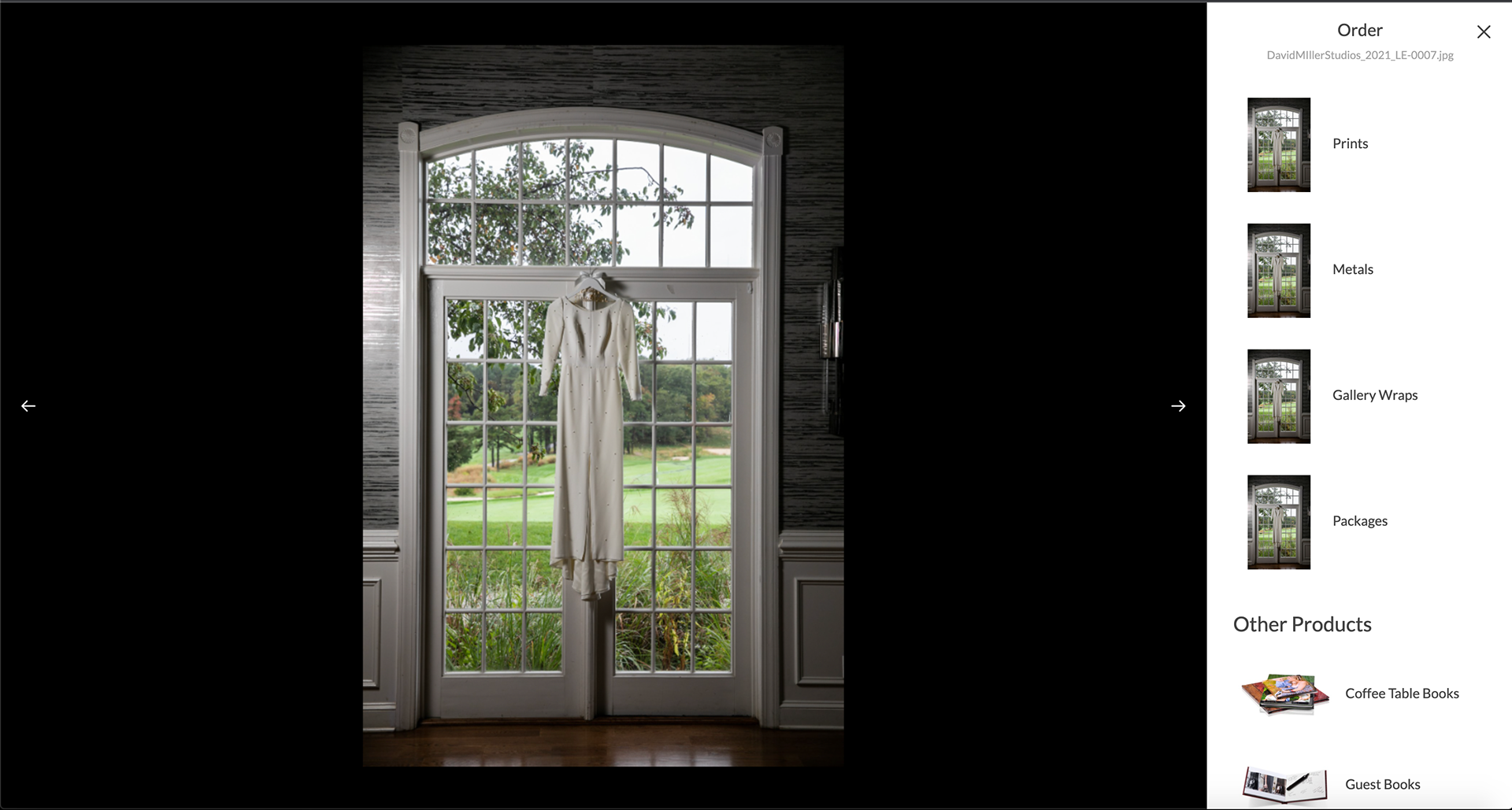 Select your preferred print size(s)
If you see a little message box like you see on the below screenshot, it means that if you like you can crop your image and it will print as you have cropped it.
Continue shopping for more print sizes or if finished shopping checkout and enter the desired amount of prints you wish to purchase.
Place an online order of $20 or more on prints and a 25% discount on your order will be applied. This deal expires 30 days from the date your gallery was launched.  
If you plan on placing a print order of $20 or more, please let us know and we'll simply send you a coupon code!
After you've entered all your shipping and payment details, you'll reach our order review screen.
All prints are non refundable and non returnable. If you like your images if you like what you see then you'll like what you in print!!!
AND JUST REMEMBER ONCE YOU'VE REACHED THE FINAL CHECKOUT/ORDER REVIEW SCREEN, YOU CAN ALWAYS EMAIL US WITH ANY QUESTIONS BY CLICKING "EMAIL PHOTOGRAPHER"